Segovia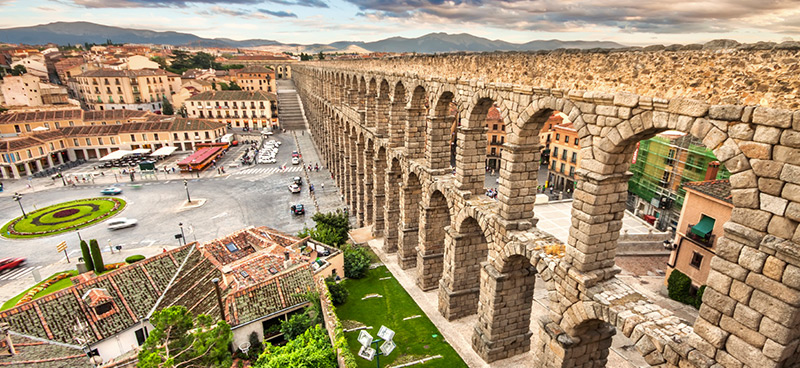 The gate to the Old Quarter of Segovia is the city's famous Roman aqueduct which, starting in the 1st century A.D., once carried water to the city from 15 kilometers away.
The aqueduct is in an incredibly good state of preservation. what's even more impressive is that the huge blocks of stone composing it are not held together by mortar, cement or other adhesive material. Instead, it is a free-standing structure held together thanks to perfect proportions and the use of gravity. A truly magnificent work of engineering!
Aside from the aqueduct, the Alcázar, the stunning castle-like fortress in which Isabel the Catholic was proclaimed queen of Castilla, and the Cathedral, the last Gothic-style cathedral constructed in Spain.
Located near the Sierra de Guadarrama, Segovia was very important during the Roman Empire and was also a Visigoth settlement.
The gastronomy of Segovia is another of its points of interest. Amongst the most famous regional dishes are roast suckling pig and oven-roasted lamb. Don't pass up the chance to try them!