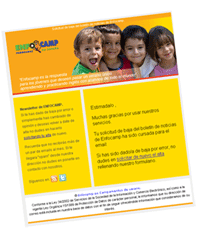 Dear Sir or Madam ,
Thank you for using our service. Check your e-mail. Your registration request has been processed. In a few moments you will receive your Enfocamp newsletter registration confirmation.
If you've been registered by mistake or you do not want to receive our newsletter and promotions, you can unsubscribe at any time by filling out the unsubscribe request form.
If you would like to send us any comments or suggestions about our newsletter please don't hesitate to get in contact with us by e-mailing us at communications@enfocamp.org.
Download our camp catalogue now in PDF format. If you'd like us to send a catalogue to your home at no charge to you, just fill out this brief form and we'll send it by snail mail to the address you provide to us.
Remember, you can participate with us through our social networks whenever you like. Find us with the keyword "enfocamp". ¡Hasta pronto!