Valencia City Tour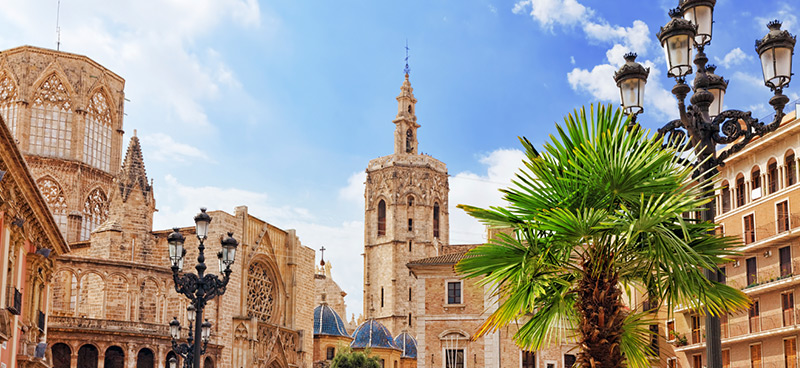 Valencia, Spain's third largest city in terms of both importance and population, is the capital of the Autonomous Community of Valencia. It's also known as the Capital of the Turia, given its location along the shores of this river.
Valencia is also known as the City of the Flowers for its numerous parks and gardens, some of the more well-known being the Parque del Oeste, the Jardines del Real and the Jardín del Turia.
In terms of Valencian landmarks, you sould visit the Lonja de la Seda (Silk Exchange), a World Heritage Site, as well as the Church of San Juan del Hospital, the Colón Market, the Cathedral, etc. Don't pass up the chance to lose yourself in the l'Eixample neighborhood, best known for being an "art nouveau" part of town.
Valencia also welcomes tourists to explore the Botanical Garden, the Albufera Natural Park and the impressive City of Arts and Sciences designed by world-famous architect Santiago Calatrava.
Las Fallas is another source of Valencia's worldwide fame. This festival is celebrated in March in honor of San José (Saint Joseph) and is listed as an International Festival of Tourist Interest. The "fallas" themselves are several meters high and are made of papier maché or wood. The group of figures appearing in a single falla generally have a humorous, satirical edge and, surprising to many visitors, are set on fire to say good bye to the festival with a true bang!
You absolutely can't leave Valencia without sampling its excellent paella, known worldwide as the ultimate representation of Spanish cuisine, as well as horchata, a refreshing regional drink that has also caught international attention.