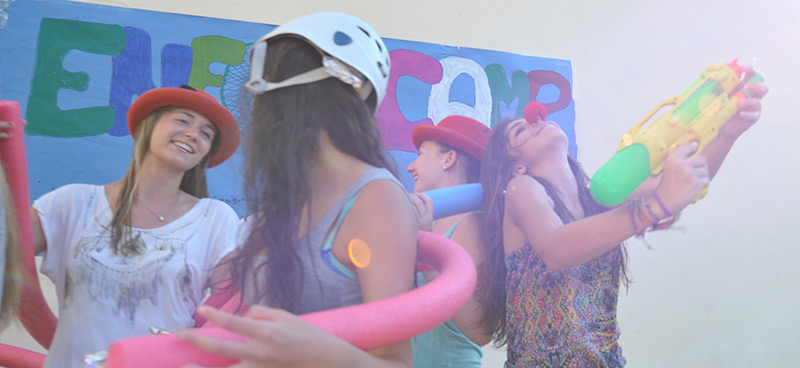 Examples of some of the workshops we offer in our Spanish summer camps ...
Outdoors Workshop
With this workshop, students will explore and learn about various aspects related to the natural environment, trekking and hiking on ecological trails, knot-making, camping, etc. At the same time, one of the principal goals is to instill in our students a lifelong philosophy of respect and appreciation twoards the environment that surrounds us.
Journalism Workshops
The journalism workshop provides an opportunity for students to have fun and take part in the creation of a publication that encompasses camp news, opinions, etc. Students will work on their critical thinking and writing skills, express their creativity and form part of a productive team in the publication of a biweekly newspaper.
Music & Percussion Workshop
With this workshop, students learn how to use the bongos, the flamenco cajón (a special box for creating flamenco rhythms), the guitar, the maracas and other instruments.
Theater Workshop
This workshop gives campers the opportunity to create their own plays and perform them, as well as recreate famous works recommended by the counselor. Students will be able to participate in every aspect of the theater, from selecting the play and acting to doing make-up, creating costumes and designing the set.
Juggling & Circus Workshop
In this workshop, our students learn to master juggling, spinning plates, devil sticks, diabolos, etc.
Lifesaving Workshop
Students will learn various lifesaving techniques, including life-guarding and CPR.
Arts & Crafts Workshops
Participants will create handicrafts using a variety of materials, such as clay, paper, yarn, beads, threads, toothpicks, recycled materials (cans, bottle tops) and more.
Cooking Workshop
This workshop encourages students to both discover the culinary arts as well as learn more about the multicultural backgrounds of our campers through gastronomy! Participants will learn to make truffles, chocolate cake, etc., and of course typical Spanish dishes like the tortilla de patatas (potato omelette)!
Flamenco & Sevillanas Workshop
For students who don't know how to dance flamenco, this is the ideal opportunity to start!
Ballroom Dancing Workshop
This workshop is intended to encourage students to develop their personal sense of rhythm and movement through music and traditional ballroom dance steps. Amongst other dances, students will have fun learning salsa, twist, tango...